Services
Determining the performance of the hotel and taking action to improve direct sales.
Nozio Business web & digital marketing to increase direct sales of the hotel.
4
Web & Mobile Hotel Marketing
Nozio Business, thanks to new technologies, offers marketing solutions useful for the increase of direct sales for hotels.


P
Software & Booking
Nozio Business provides advanced tools for the effective management of bookings, distribution and online reputation.


O
Advertising Campaigns
With Nozio Business, invest in effective and suitable online advertising campaigns through your Official Website to increase direct sales.


9
Social Media Marketing
Nozio Business takes care of hotel's presence on Social Media and joins the hotelier in his engaging activities with travelers.


C
Affiliation
Affiliation to Nozio brand is useful for hotels which are selected for their ability to relate directly with the traveler.


I
Small Business Special
Nozio Small & Local Business offers to businesses a complete range of advanced services to enhance their online visibility in order to boost in-store sales.

+ direct – commissions + earnings
Nozio Premium | Total Advertising
Nozio Business is one of the first companies to have signed agreements and activated technological connections with the leading travel search sites. An important milestone that enables the Official Websites of hotels to compete with the big players in the agency market.







Further information regarding the benefits of Nozio Premium!
€1,000 invested. €16,000 earned. 15X ROI
Our works
We are proud of our clients.
We are delighted to have partnered with thousands of hoteliers for over 15 years. And we were the first to do so!
Blog
Follow Nozio Business Blog to know more about the news, trends and best hospitality solutions.
Evolution of the tourism market: the opportunities provided by a mobile site for increasing a hotel's direct sales
There are currently 2 billion smart phones being used worldwide. According to the Mobility Report by Ericsson, the Swedish telecommunications giant, 9.3 billion SIMs will be active by 2019 and, in particular, of these 5.6 billion will be associated to a smart phone.
With these statistics in hand, businesses operating in the tourism sector can no longer ignore the market of mobile travelers; thus, an Internet site that is optimized for smart phones and tablets is an opportunity you can't miss.
How much can a mobile site affect my business?
A lot! Having an optimized mobile site will allow you to intercept customers who prefer an easier browsing experience and more user-friendly interface for booking their next trip.
To give an idea of the quantity of traffic generated, according to a report by Eye for Travel, only 41% of users interviewed said they still preferred searching from their desktop, while the remainder prefers using a mobile device. The graph [...]
Other Posts
Previous informations.
TripAdvisor seals deal with American Express: a new step for verified reviews
TripAdvisor has recently sealed a new deal with the credit card giant American Express to increase the reliability of its reviews. This agreement allows Amex card holders to take advantage of discounts and up-to-date information on tourism destinations..
What does this mean for hoteliers?
It means they can view the giant of online reviews with less skepticism;; it's a well known fact that TripAdvisor is trying hard to resolve the problem of reliability for its reviews, quickly and intelligently.
Hotel managers have always held contrasting opinions towards the popular portal: some say they're satisfied with the review system, whereas others see it as a "demon"that is ruining their business. Contrarily, TripAdvisor must be seen as an opportunity to improve your business, avoiding needless prejudices while seeking to exploit the visibility it offers hotel establishments.
Partnership
Thanks to this partnership, each review issued by an Amex card holder connected to their TripAdvisor profile will bear a "Amex Traveller" and […]
"No to the equal tariffs imposed unilaterally by intermediary channels": analysis of the second point of the HOTREC manifesto
The HOTREC manifesto (European trade association of hotels, restaurants & cafes) is a cornerstone for tourist establishments that want to reduce their dependence on large intermediation firms. The document lists the conditions on which relationships between hotels and intermediaries should be based, bringing decision making power back in the hands of accommodation establishments. In addition to rendering hotels more independent from OTAs, these "recommendations" aim to help you increase your direct sales.
What are you waiting for to read it? n the meantime, we'll continue with our analysis of the second point of the manifesto:
2. "No, to the parity rate imposed unilaterally by intermediation channels" (i.e. Expedia, Booking & Co.); hotel managers, publish the lowest rates and most advantageous sales conditions available on the Internet on your official website.
In other words, what does this all mean for me as a hotel manager?
It means that the parity rate is, in the majority of cases, annoyingly imposed on […]
Nozio Premium – Total Advertising & Price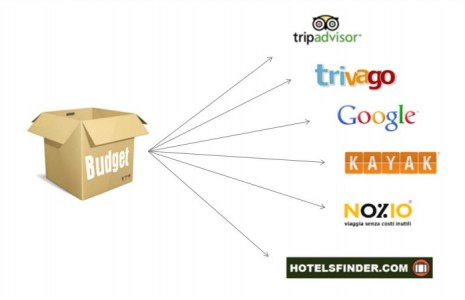 TripAdvisor, Trivago, Google, Kayak, Hotelsfinder… how to choose the right portal to promote your hotel? Choose them all!
A multi-channel marketing campaign for your hotel aimed at meeting the search habits of travelers, who now make use of a multitude of sites to search and book hotels at the cheapest price.
Multi-channel campaign Direct bookings High ROI
What does this service consist of?
- we provide a strategic plan for enhancing your presence on the Internet in several portals;
- together, we'll define the best budget for your needs;
- we'll activate a basket, a container with your budget that will allow your hotel to benefit from a multi-channel promotional campaign;
- we'll activate and maintain the campaign on the channels identified in order to compete with international OTAs;
- we'll boost traffic towards your booking system and official website.
Why is it important to be present on these portals? […]
"No, to the unauthorized use of the hotel's name by an intermediary channel": analyzing the first point in the HOTREC manifesto.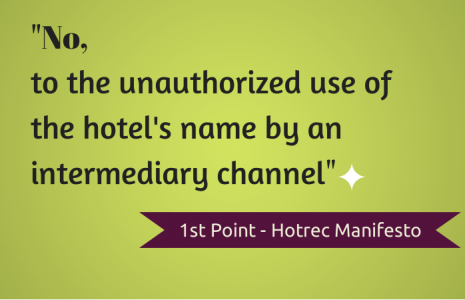 In May 2012, HOTREC (the European Trade Association of Hotels, Restaurants & Cafes) published on the Internet a 19 point manifesto listing the policies hotel managers should adopt against OTAs (Online Travel Agencies – i.e. large scale travel agencies such as Expedia and Booking). To give an idea of the significance of this association, just consider that it combines all of the main national associations, including our own Federalberghi and FIPE.
The points, which will be published on a bi-weekly basis, essentially recover the values expressed in the Nozio Statement of Values, and are applied to hotel web marketing projects developed.
In this article we'll focus on the first point in the manifesto:
1. "No, to the unauthorized use of the hotel's name by an intermediary channel" (Expedia, Booking, etc.), in promotional activities on search engines, on social networks and on all other online advertising platforms.
Hotel managers, forbid OTAs from exploiting your brand to promote their portal! […]
Trivago Direct Booking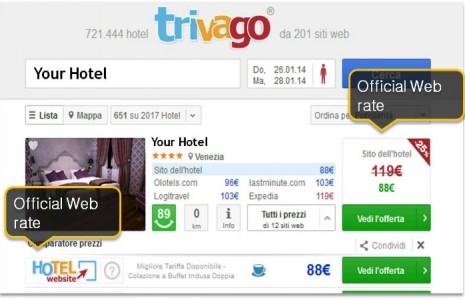 A product to promote your hotel business lets you increase visibility and direct sales, completing with the largest international OTA.
visibility ROI high Increse direct sales
It's easy! With Nozio Business professional consulting, your hotel can plan a PPC (Pay Per Click) campaign based on your distribution and budget needs. Nozio Business will handle interfacing the booking engine with the destination price comparison section and publish the price and availability offer on its Official Website. That way your hotel will benefit from increased visibility and will compete with the other hotels at your destination and the main online travel agencies.
The Trivago Advertising service's strength is its hotel-only promotional space with average conversions estimated at more than 3% and one of the highest ROI on the market.
Trivago is one of the most famous price comparison and travel review sites in Europe. And it is quickly gaining ground in large markets like the US or emerging markets like Brazil[…]
Google Hotel Finder – How to exploit this tool for the hotel's official website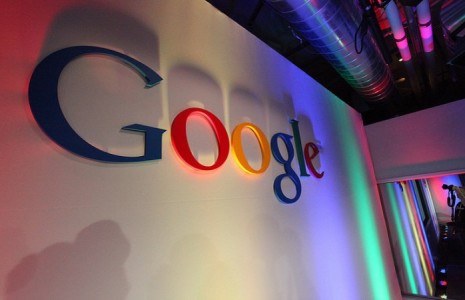 Lately, we've witnessed a change in the online tourism market: large OTAs (online travel agencies) have been gaining ground against meta search engines such as Kayak, Trivago, and recently Google Hotel Finder.
What is a metasearch engine and how does it work?
Simply put, a metasearch engine is an interface that searches on several search engines simultaneously. Therefore, a greater number of websites can be reached with just one click, saving time and effort.
After entering the travel destination and period, tourism metasearch engines compare data on various tourism portals simultaneously, providing travelers with a broad range of possible choices.
Google launched its very own meta search engine some time ago: Google Hotel Finder
Hotel Finder allows users to view the price and relative availability for a given period and destination searched by travelers, within Google's own organic searches and on the pages of Google Maps.
Google draws information related to prices, availability and room types from OTAs who […]
Direct selling as an economically sustainable tool in the tourism sector
About Us
Serving hoteliers since 1996.
Evolution of online tourism.
Technological innovation has changed "rules of the game"
Our mission is to promote the values of
short supply chain
in the hotel and tourism sector.
We offer consulting services and digital marketing tools to hoteliers in order to improve their direct sales performance and we give
travelers
the opportunity to search and book accommodations on the Official Websites of hotels, at best market rates.
Strengths of Nozio Business
KNOW-HOW
INNOVATIVE TECHNOLOGY
TRANSPARENCY

Contact Us
If you wish to ask for more information about the services of Nozio Business, call us, email us or fill out the form at the bottom of the page. We will contact you promptly to cater to all your requirements.
VEGA - Parco Scientifico e Tecnologico di Venezia, @ Lybra
NOZIO srl | div. Business | Via delle Industrie, 17/A | 30175 Venezia Marghera, Italia Google Map
Request a quote
Use this form to request a quote free of charge on the services that you found interesting. Services Inquiry