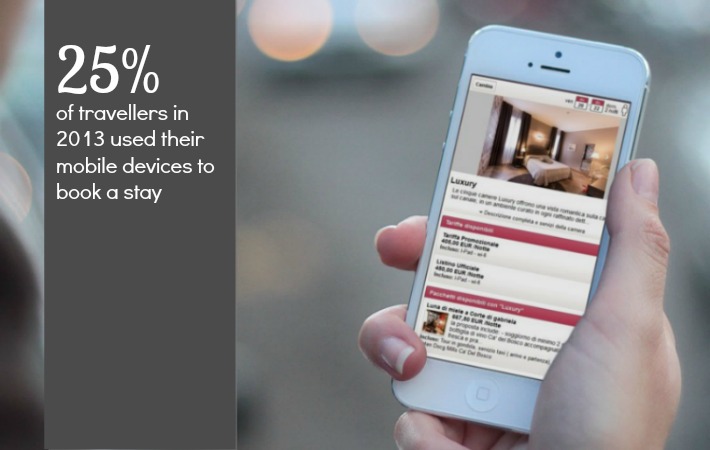 20 Jan

Evolution of the tourism market: the opportunities provided by a mobile site for increasing a hotel's direct sales

Posted at 23:02h

in

Trend

There are currently 2 billion smart phones being used worldwide. According to the Mobility Report by Ericsson, the Swedish telecommunications giant, 9.3 billion SIMs will be active by 2019 and, in particular, of these 5.6 billion will be associated to a smart phone.

5,6 billion smart phones.
+2000% Mobile revenue.

With these statistics in hand, businesses operating in the tourism sector can no longer ignore the market of mobile travelers; thus, an Internet site that is optimized for smart phones and tablets is an opportunity you can't miss.

How much can a mobile site affect my business?

A lot! Having an optimized mobile site will allow you to intercept customers who prefer an easier browsing experience and more user-friendly interface for booking their next trip.

To give an idea of the quantity of traffic generated, according to a report by Eye for Travel, only 41% of users interviewed said they still preferred searching from their desktop, while the remainder prefers using a mobile device. The graph below shows how direct bookings have increased considerably in recent years.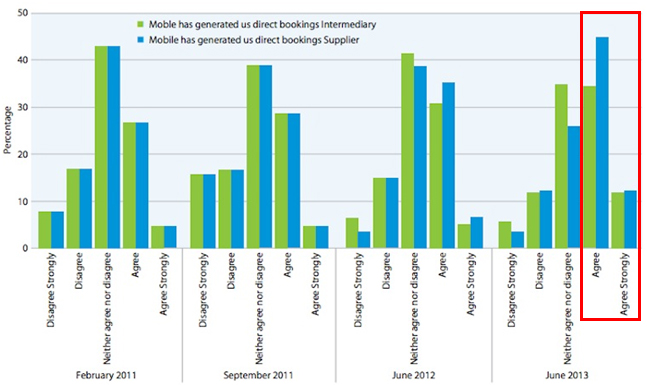 What's more, we need to bear in mind that currently 20% of transactions in the tourism sector occur on a mobile device, and that if a company's revenue in January 2009 amounted to 2 million dollars, in 2013 it was 40 million, a 2000% increase (Eye For Travel).
According to yet another study conducted by Hotels.com, mobile devices have become an integral part of the buying process for the tourism market, becoming essential in planning and booking operations. 60% of bookings from smart phones are made on the same day as the check-in, highlighting an orientation towards mobile devices for last minute bookings and spontaneous trips.
Why is it worthwhile having a mobile version of the official website?
The use of mobile devices is a phenomenon of the masses and is expected to grow exponentially within a rapid time frame, and only those who "ride the wave" will be able to not just maintain but increase their competitive edge.
The prevailing trend is towards ease of use in all devices, and in their "mobility"intended as their ability to operate anywhere. Via your mobile site, you can capture all those customers who are looking to satisfy these needs, creating a virtual window with more visibility.
What are you waiting for to ride the mobile wave? Do you have a clear strategy for exploiting this evolving technology?