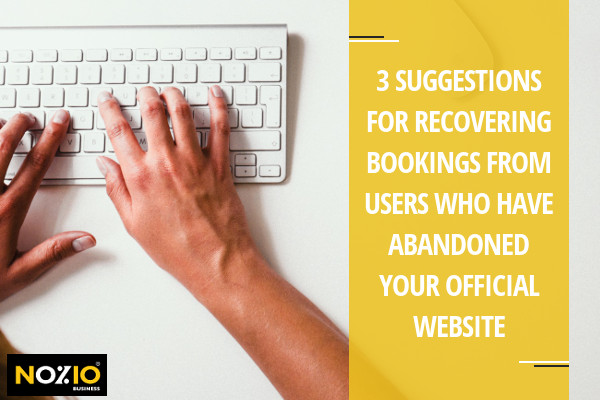 02 May

3 suggestions for recovering bookings from users who have abandoned your Official Website

Posted at 14:07h

in

Trend

Shopping cart abandonment is a daily curse for all businesses operating in online shopping, be it for a hotel room, a pair of shoes or the latest Smartphone.

According to some recent statistics for the travel industry, the average number of users who abandon their shopping carts amounts to 84%, versus 75% for other sectors.
In 2015, according to Business Insider estimates, goods abandoned in online shopping carts amounted to $4 billion.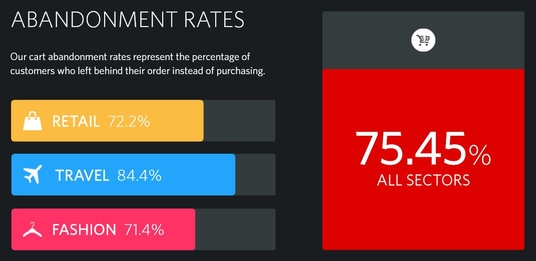 Whereas on the one hand we've stated that so-called "shopping cart abandonment" is severely damaging, on the other hand it also represents a great opportunity for direct sales, as well as optimizing investments made to attract quality traffic to your hotel's Official Site.
Recovering users who abandon their reservations has a twofold purpose: it reduces the website's dropout rate and encourages direct bookings.
The reason why so many users abandon the booking process lies in an increasingly growing supply and in the large number of portals available to help users find accommodations.
Users who desert their shopping cart are valuable, since they are just one click away from confirming a reservation. Looking for a way to have them return to your booking engine and convincing them through proper communication should therefore be your ultimate goal.
How to recover bookings from users who have abandoned your web site?
The following are a few tips you can apply immediately to reduce dropout rates and help increase conversion rates.
1 – user experience
Consumers today are accustomed to using the Internet from both mobile and desktop devices, easily switching back and forth between these technologies.
Consumers are mainly looking for TRUST. They expect a consistent browsing experience.
The possibility of making use of the same content from both fixed and mobile devices boosts their trust. Responsive technology allows your website to adapt based on the device used, providing usability for content from any device.
It also focuses on the speed at which pages are loaded, and transparency in communicating with your Official Site.
2 – dynamic messages
Use dialogue boxes with dynamic messages that are activated when users perform specific actions, in order to engage travelers.
For instance, when users choose to close their browser, propose that they continue browsing and explain why it's cheaper to book directly from your Official Site, highlighting your strengths; for example, "Don't miss out on having breakfast on the coastline's most beautiful terrace!"
3 – continue with your booking later
Many consumers abandon their shopping cart or websites because they use them only as wish lists to save for later. Offer them the possibility of receiving the contents of their shopping cart in their email box, so that they can easily resume the booking process from where they left off.
This way, their shopping cart desertion becomes a sales opportunity!
Solutions
One effective solution is our new Nozio Remarketing Suite, an automated tool designed to re-engage travelers, and proposed in partnership with Ve Interactive, a market leader in online efficiency solutions and an official Nozio partner for Remarketing solutions.
This platform allows you to:
increase opportunities for recovering users who were already convinced, but who ultimately did not make their booking
optimize investments incurred to bring users to your hotel website
increase direct sales earnings for your hotel
What follows is an interesting interview with Mattia Zara, Sales Manager with Ve Interactive Italy, explaining the benefits of reducing dropout rates for bookings:
Mauro
Good morning Mattia. What are the main benefits of the shopping cart recovery service?
Mattia
Recovering users who abandon their bookings has a twofold purpose: it reduces the website's dropout rate and encourages direct bookings.
The aim is to interact with users who fail to finalize their online bookings for any number of reasons, by providing them with an incentive to book in real time, thereby reducing dropout rates and increasing direct hotel sales. On the other hand, an improved user experience on the website helps increase direct online bookings at the expense of OTA bookings, with a long-term goal of promoting this channel for end users.
Mauro
How can this tool help independent hotels to reinforce or embark on the path to disintermediation?
Mattia
Thanks to our technology, any hotel can efficiently boost their direct online bookings and retrieve users who do not directly finalize bookings on the website. How? Ve Interactive's competitive advantage lies in a performance model that does not include fixed costs or activation costs, and is therefore accessible to anyone. Furthermore, our technology enhances user engagement online and therefore increases direct bookings, favoring disintermediation.
Have you thought about using effective strategies to recover bookings from users who abandon your Hotel's Official Website?
Source: Remarketing Report, Business Insider