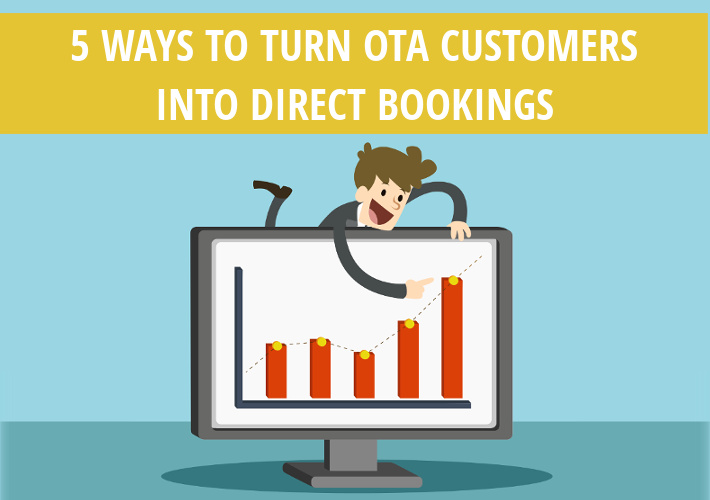 10 May

5 ways to turn OTA customers into direct bookings

You must have heard it said that travelers who book a hotel room via an OTA (Online Travel Angecy) remain customers of the OTA itself and are unlikely to come book a room from your most profitable channel, your Official Site.

It's not unusual to find Hotels that rely almost exclusively on intermediaries to book their rooms, paying an average commission of 20% for every booking received. Apart from the obvious impact on the RevPAR (Revenue Per Available Room) and the difficulty maintaining a competitive ADR (Average Daily Rate), these hotels are losing the opportunity to build a direct relationship with their guests.

For this reason, we offer 5 practical tips to implement immediately to transform travelers booking through intermediaries into your Hotel's direct customers.
1 get their email and use WhatsApp
Travelers' data are indispensable for forming a direct relationship with them and avoiding any communication filters.
Once you have their email address, you can use different strategies to transform the customer who has booked on an online agency into your direct client. For example, you can:
send them a post-stay email and let them know that if they book directly next time, they'll have an even better experience
send a special promo code email 60 days before the anniversary of their stay at the hotel
Travelers will be happy to know that your Hotel is ready to welcome them and has its customers at heart.
Quick tip:
Send customers who have booked through an OTA a welcome or service message via WhatsApp, a popular instant messaging app with more than 1 billion active users (February 2016).
Ask for their email upon check-in or via WhatsApp: be discreet, users know the value of their data. Request their email address, explaining that you would like to send service communications or special private offers, and that you promise to never send spam!
2 activate brand protection campaigns
Manage your visibility on search engines by activating a PPC brand protection campaign on your brand name and generate qualified traffic on your Official Site's pages.
Positioning your Website among the first results of Google allows you to put yourself in a sensitive stage of travelers' buying process, and greatly increase the chances of generating direct bookings.
If you don't take up space on Google with your brand name and destination, the OTAs definitely will (a widespread practice called Brand Jacking), and therefore you'll have to pay a 20% commission on bookings received from online brokers.
The ultimate goal is to have your Website be easy to find when a traveler has decided to book your accommodation.
Quick tip:
Activate PPC Brand Protection campaigns with Google AdWords.
3 grab the traveler with remarketing
Travelers consult the official website, OTAs or metasearch engines before deciding which channel to book on.
You can intercept users in their decision-making stage and propose sending them an email with offers or to resume the buying process from where they left off.
Quick tip:
The Nozio Remarketing Suite service is a tool for interacting with the user who for "x" number of reasons did not immediately finalize the booking online, allowing you to reduce dropout rates and thereby increase direct Hotel sales.
4 offer real benefits for those who book directly
Consumers book using their most convenient channel, from both an economic point of view and in perceived trust.
For this reason, your goal should be to bring extra value to your direct channel and help travelers understand the real advantage of booking directly.
Quick tip:
These are some solutions that can be immediately activated:
Best Available Rate: make sure users of the Official Site can make use of the best available rate you have and that your booking engine can create promo codes or special offers, such as the online booking engine Nozio v2.
Free upgrade or late check-out: Offer the opportunity to those who book directly from your official channel to enjoy a room upgrade or a late check-out.
Doing so, travelers will have a real added value at the same price as your brokers.
Differentiate your offer: create experiential packages and maintain the availability of your best rooms on your booking engine.
5 metasearch marketing: compete with OTAs on metasearch engines to get more visibility
As stated above, travelers are accustomed to consulting multiple sources before deciding and making a reservation.
The use of metasearch engines like Trivago, Kayak or Google is widespread and taking up spaces otherwise occupied by OTAs is a great strategy for bringing qualified travelers to your Website, dramatically increasing the opportunities for direct sales.

But be sure not to post a higher rate than your brokers, which would eliminate this solution's effectiveness.
Quick tip:
Bonus tip!
Just ask: ask your guests to book directly!
In your institutional communications with travelers – on the phone, via email, at the front desk, on the Official Website, on social networks – make sure that the benefits of direct sa;es are perceived.
Consumers are increasingly smart and choose the most suitable offer for their needs, you just have to be sure that it's you who's offering it to them!
In conclusion, make your guests who book directly from your own channel feel more than special, and you'll notice their number increasing!