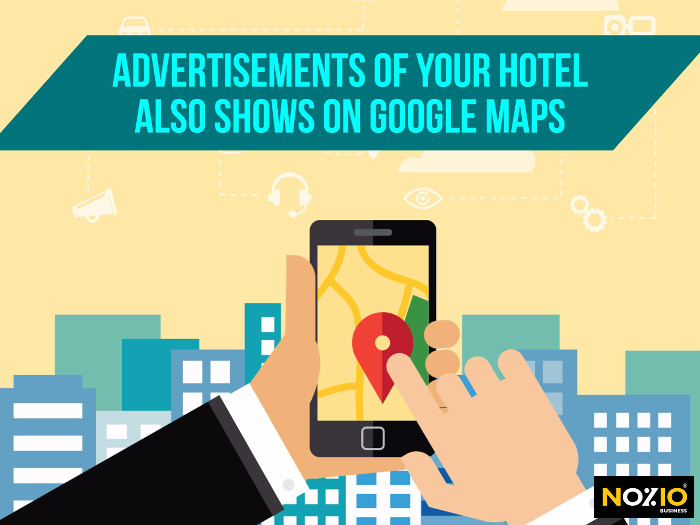 12 Sep

Advertisements of your Hotel also shows on Google Maps

Posted at 11:00h

in

Trend

Google claims that more than 1 billion people use the Google Maps app and almost one third of the total research carried out on smartphones is for locations.
It is so easy to predict that in the nearest future Google Maps will become a true link between the users performing "GPS search" and the opportunities that the surrounding world has to offer.
In other words, Google Maps is going to become a powerful new medium to convey advertising content to users who are searching for local services.
In a period when the focus is on the principle of Mobile First, the American company, in its announcement, has declared that it will be possible to enable advertising campaigns on Google Maps.
The merger between virtual and real
The declared goal of Google is to help online advertisers reach consumers interested in physical stores and thus increase visits to the real stores.
Through Google AdWords, you can insert your company logo (Promoted Pin) and other additional options, such as "Call" or "Directions" button, directly in the Google Maps results. If a user searches for a "bar nearby" or "restaurant near …", Maps will show the advertisement more prominently than the organic search results.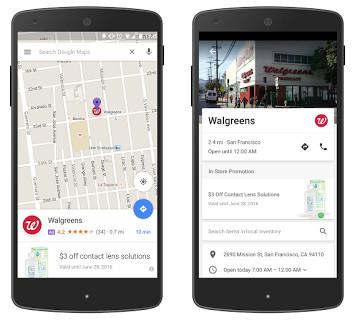 It is very likely that consumers will find ads which are more suitable to their liking on Google Maps and will get more accustomed to seeking information for their purchases, including travel.
Having a widespread presence on the platforms most visited by the travellers is undoubtedly an advantage for increasing the visibility of the Hotel and the chances of getting more direct bookings.
Why is Google Maps important for the Hotel?
Apart from the main reasons relating to:
directions useful for travellers to reach the Hotel
contact details
increased credibility and confidence in the brand
There are a number of advantages to consider.
Visibility of Google My Business card
The page serves to show the opening hours, phone number, directions, services, or prices of your Hotel in Google Maps and Google Search.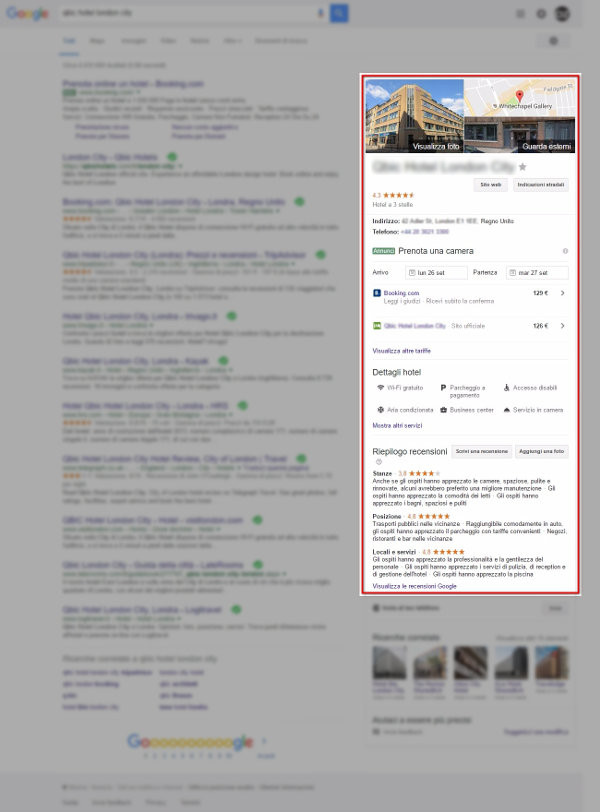 In practice, all the page is occupied by the space dedicated to Google My Business Card and it is very likely that travellers interact with it. The space reserved for the card on the first page of organic search results says a lot about the importance given to it in Google's planning.
Integrating My Business card, with an active campaign on AdWords and a natural link immediately after ads, maximise the visibility of your Hotel on the first page of Google search. Most likely, the travellers will click on a link connected to your direct sales channel, your Official Site.
Google Hotel Ads: rates of your booking engine on Maps and Search
Already, search on Google Maps for hotels is very developed: you can search for hotels near a specific location, see the rates for a specific period, and find basic information such as the telephone number, the official website, the services or traveller ratings.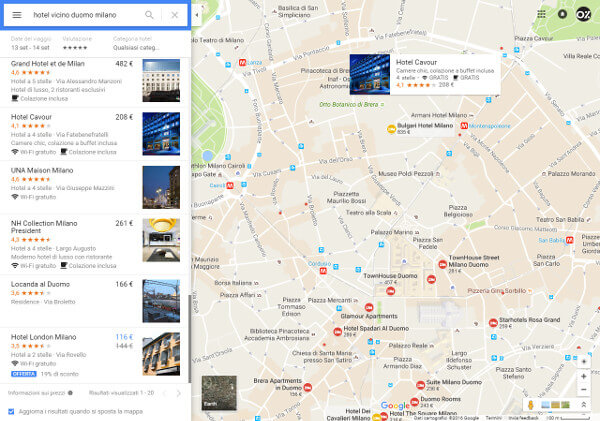 In order to find all this information, Google relies on a series of services, such as My Business card, any AdWords campaigns and Google Hotel Ads.
We have already dealt with the theme My Business, while AdWords campaigns are widely distributed; here we will quickly explain what Google Hotel Ads are.
The Google Hotel Ads program allows to:
show tariffs of your booking engine on Google Maps and Search
bring qualified visits on your Official Site
differentiate you from competitors in your area
attract travellers who otherwise would have gone on the site of an OTA (Online Travel Agency)
The Google Hotel Ads campaigns are included in the multi-channel visibility platform Nozio Premium – Advertising & Price. Such campaigns, associated with Google AdWords campaigns, optimised with location extensions, guarantee an outstanding visibility to travellers who use Google tools to organise their trips, by dramatically increasing ROI (Return on Investment) in terms of visibility.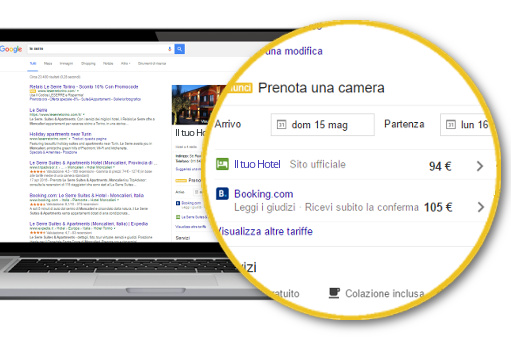 Conclusion
Summarise the main benefits of an active management of Google Maps and Search:
acquire greater visibility online
make address, website, telephone and rates of your booking engine visible
generate qualified traffic on Official Website
optimise the ROI related to online visibility
In a world which is increasingly becoming Mobile oriented, where consumers are increasingly using devices and sources for their purchases, it is essential that you manage to make the online search for your hotel extremely easy; especially when travellers take the phone in hand to look for what really you can offer!
Image credit: Freepik