02 Jan

Facebook Like Rate: Social Media Marketing and Direct Bookings

Today, we're all concerned about how to manage our social profiles, how much time they'll take up, what to write and post, how often and how to optimize content so that it isn't merely commercial but also involves fans, or followers, to show loyalty for our hotel product and its destination. The fear is that of not being up to the task and not being competent, investing time without knowing whether there will be a tangible return economically and/or in terms of image.

However, the main problem for the majority of hotel establishments today is different, and lies upstream from all of this: who do I write to if my page has 50/100/200 followers? Therefore, prior to worrying about what to do to professionally manage our company web page on Facebook, we should be concerned about creating a community of followers.

There are 3 moments in which this can be achieved:
 While the customer is at staying at the hotel, suitably structuring our communications during contact phases, in the common areas and rooms, at the check out (for all customers, regardless of the distribution channel of origin);
 Once the stay is completed, via a post-trip email that prompts the customer to remain updated on the product, guests, staff, services and events at the hotel establishment and destination (for all customers, regardless of the distribution channel of origin);
 During the buying process, offering guests a Social Oriented buying experience in order to involve them immediately in our world on Facebook, as well as providing a concrete reason to book DIRECTLY on our official website (for customers booking on the official website)..
The revolutionary Online Reservation System – V2 by Nozio thus allows you to: begin to collect dozens of new followers every month on your company page on Facebook, while offering a concrete advantage to customers in booking directly, saving in commission costs and without any issues of violating rate parity (since the rate is reserved only to customers who send you a "Like").
STEP 1 – Your official website: the customer queries a date and obtains available rooms and rates: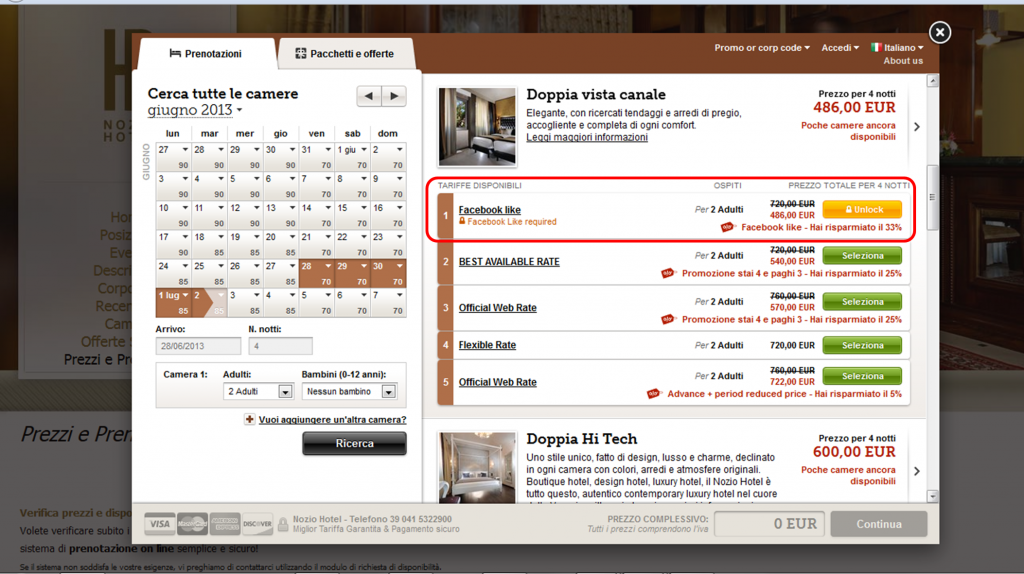 STEP 2 – The customer sees the rate dedicated to FOLLOWERS (FANS) on Facebook (the most convenient) and clicks to buy it. The system asks the customer to log on using his/her Facebook credentials: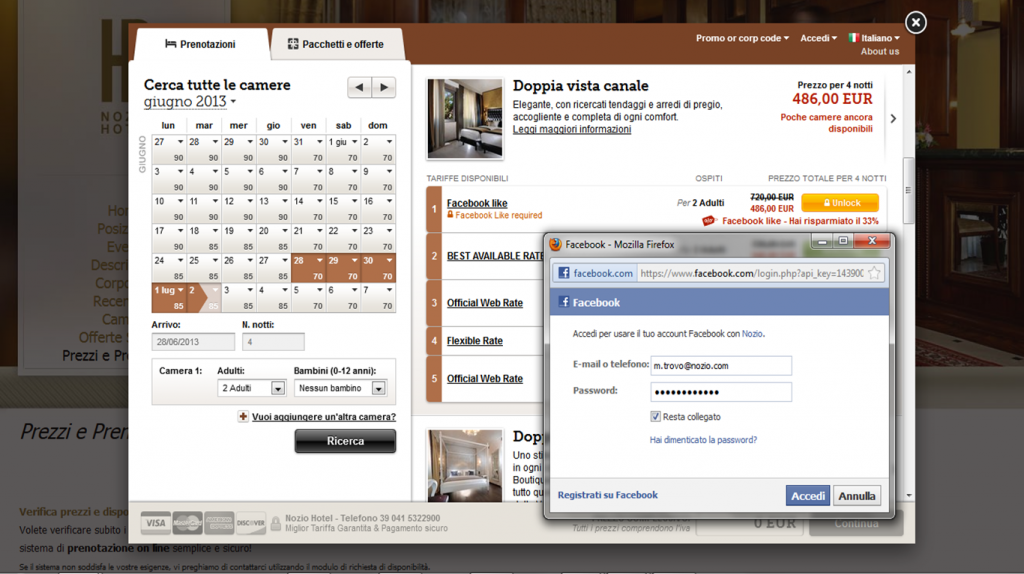 STEP 3 – The system recognizes the Facebook user and proposes the Facebook widget with a request to click on &"Like" to unlock the rate: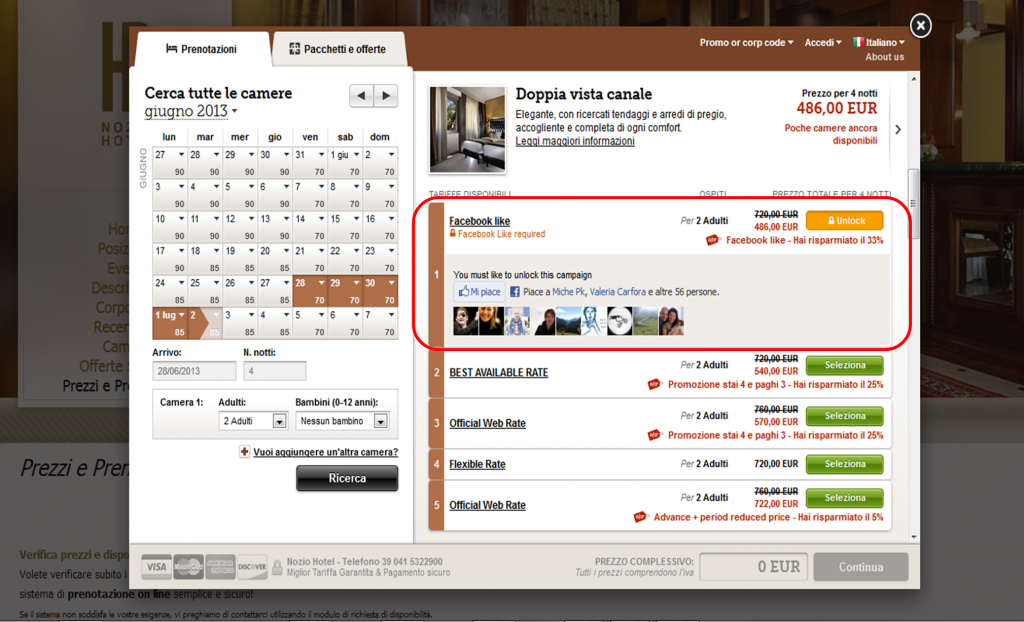 STEP 4 – The customer click on "Like" and the rate becomes selectable: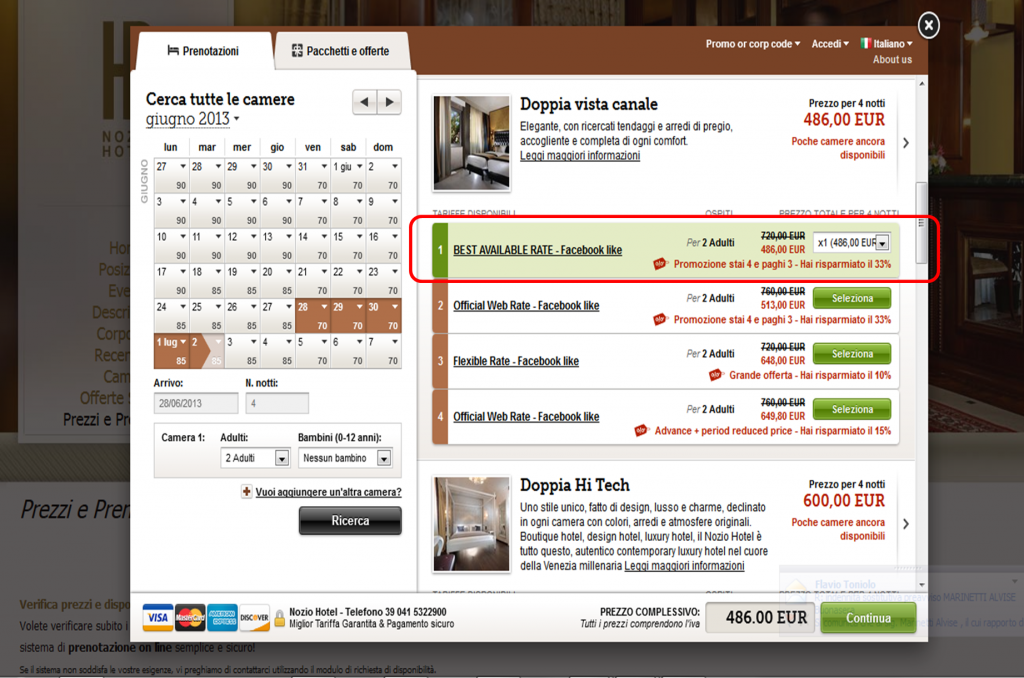 We've thus achieved 3 important objectives:
An increase in direct sales, diminishing the strategic weight of intermediate sales on your mix of distribution channels, which effectively increases your future bargaining power;
A decrease in distribution costs and commissions paid to OTAs, which in times of crisis is a MUST for businesses;
An increase in the number of FOLLOWERS (FANS) on your Facebook company page, exploiting both virtual word of mouth to your customers' friends of friends and enhancing customer loyalty over time, urging customers to repeat their purchase always directly, including using the widget in the Online Booking System – V2 optimized for Facebook.
For more information and to view all specifications and the new REVOLUTIONARY functions on the Online Reservation System – V2 ask for a FREE DEMO
CLICK HERE