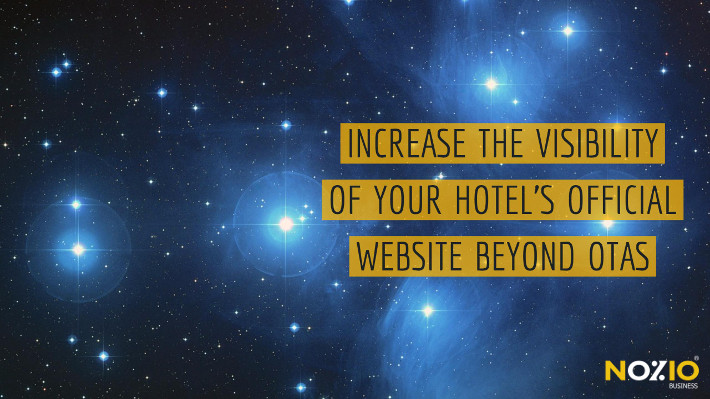 31 May

Increase the visibility of your hotel's official website beyond OTAs

Visibility is a sensitive issue in terms of a hotel's marketing strategy.
Indeed, with our ATTRACT» CONVERT» SHARE hotel marketing strategy, ATTRACT refers to activities aimed at increasing visibility on the Internet with the aim of bringing highly qualified traffic to the hotel's official website.

OTAs (Online Travel Agencies) are normally associated with a billboard effect, a direct relationship between visibility on an OTA and increased bookings through the hotel's official channel, although some studies call its effectiveness into question.
A further aspect – no less important – is that bookings received through online travel agencies are costly!

Online distribution in the hospitality sector is constantly evolving, with an incessant flow of tools, players and solutions arising on an almost daily basis. Users are accustomed to visiting an average of 18 different websites to find information, and their main activity online is comparing rates.

The beauty of the web is that opportunities are potentially available to everyone; you just need to figure out how to exploit them to your own advantage, or team up with a professional partner who can offer the best advice.
Solutions exist beyond "traditional" OTAs to increase exposure for hotels on the Internet, directly promoting rates on their Official Site and thus saving on part of the fees payable to intermediaries.
Simple solutions such as a PPC campaign on Metasearch or Google AdWords, or a fee on specialized portals and traveler communities.
Metasearch
47% of travelers now use metasearches such as Trivago, Google, TripAdvisor, Skyscanner in the planning stage of their trip. And this is precisely what metasearches are for: facilitating searches for travelers so that they can find all the information they need (and comparing this information) to plan their next trip.
A visibility campaign modelled on a PPC (Pay Per Click) allows you to actively monitor these channels.
This sort of campaign provides a high strategic and economic value. Indeed, metasearch engines:
allow you to publish your official rates next to those of your intermediaries
attract large numbers of qualified visitors to your website
provide a higher ROI (Return on Investment) on average at a lower cost compared to average commissions paid to online travel agencies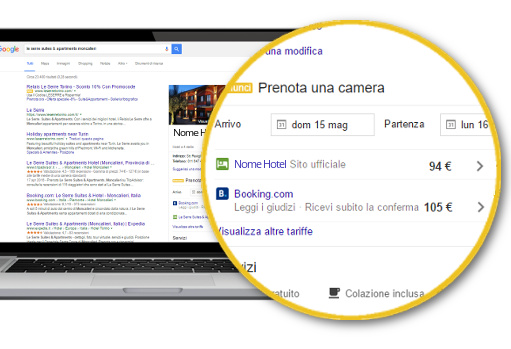 Google AdWords
Search engines, including Google, are a viable solution for lending high quality visibility to your website.
With AdWords campaigns, you can advertise different aspects of your hotel and get people truly interested in your establishment on your website pages.
Travelers viewing AdWords on Google receive essential information in a single glance.
Here are two examples.
In the first example we find information such as:
a sales price
the hotel's location
the telephone number
the ability to book a stay by taking advantage of a special offer
In the second example, on the other hand, together with our client we've opted to focus on other factors. In addition to ensuring the best rate and indicating the location, the AdWords ad focuses on the establishment's strengths and services:
Free Wi-Fi
Garden
Wheelchair access
Lounge Bar
Rooms with a canal view
Traveler communities and portal – www.nozio.com
The Nozio portal aims to focus on establishing a direct relationship between travelers and hoteliers, implementing a win-win strategy: Nozio Travelers – the 50,000 travelers in our community – benefit from special rates dedicated to them, while hotels receive direct bookings.
All hotels on the portal have their own direct link to their website; while establishments that are affiliated to the brand also have the opportunity of publishing their official rates.
What other solutions or strategies do you use to increase the online visibility of your business? Post your answers on our social media channels.