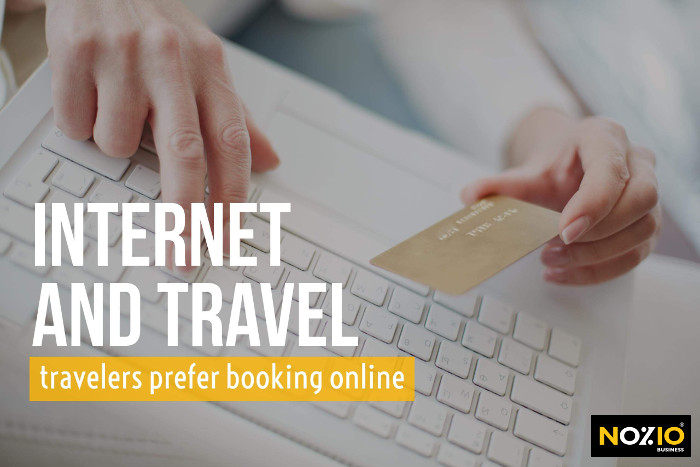 24 Oct

Internet and travel. Travelers prefer booking online

Posted at 11:00h

in

Trend
"4 out of 5 tourists make their travel bookings online."
This according to a study conducted by the Digital Innovation Observatory for Tourism at the Politecnico di Milano. The data confirm that Italian tourists are using online digital tools to search, plan and above all book their trips.
Tourism and the Internet, a combination whose bond is expected to become ever stronger. The study shows that the Internet today has reached a highly widespread level among Italian travelers: 84% book online, with Internet searches carried out by 83% of respondents, and 67% seeking ideas and inspiration on the Internet.
Inspiration
The data show that the influence of online digital channels plays an increasingly significant role in the inspiration phase of travel plans: 48% of respondents read reviews and comments on the Internet, compared to 40% of those who rely on personal advice received from friends and relatives.
The weight of personal interactions – the old 'word of mouth' – is still relevant, although the sharing economy and new technologies are contributing to changes in consumer behavior to the benefit of online channels.
Searches
Consumers search for specific information, and they are most likely already considering alternatives for their trip.
The report's data show that in this all important phase the Internet is the medium most used by digital travelers:
45% use search engines
34% consult booking and comparison sites for accommodations and transportation
31% read review sites
19% visit accommodations sites
The active presence on search engines of Google AdWords, the effect of metasearch engines with visibility campaigns on prices, the hotel's Official Site, a system for managing digital reputation are the activities and tools you need to adopt to in order to be found by travelers seeking an experience in your destination and information on your hotel.
Bookings
In this phase, the Internet is by far the preferred choice of travelers.
Whereas 92% of tourists book accommodations or their means of transport before leaving, fully 81% book online!
It's interesting to note the role played by the Internet in booking additional services before travelers' departure:
13% book cultural activities and guided tours
13% book relaxation activities
12% make restaurant reservations
The booking engine is the tool that allows travelers to book your hotel. It isn't sufficient to simply have a booking system on your website to ensure bookings; it's essential that it display certain characteristics and functions, such as, for instance, the NOZIO V2R booking engine: a system that is simple, intuitive, fully responsive and flexible.
The Internet is also crucial in the post-travel stage, indeed:
39% of tourists respond to post-trip requests
37% write reviews
34% share their experiences
Conclusions
In light of these data, it's easy to imagine the digital traveler … there she is on the train consulting a Smartphone, searching for inspiration on Instagram, or browsing a post on Facebook by a preferred travel blogger, searching for information on a destination on a travel site, creating a WhatsApp group to share information with friends and family, conveniently booking online from the comfort of home on a desktop device.
The Internet is a great opportunity for the success of your business, provided you have a Digital Marketing Strategy that is long-term, clear and functional to your needs.
A Hotel Marketing Strategy capable of generating surprising results – ATTRACT» CONVERT» SHARE – helps direct visits interested in your hotel establishment, converting visitors into direct bookings, and turning customers into loyal supporters of your brand!
Source: www.osservatori.net/it
Image credit: Freepik