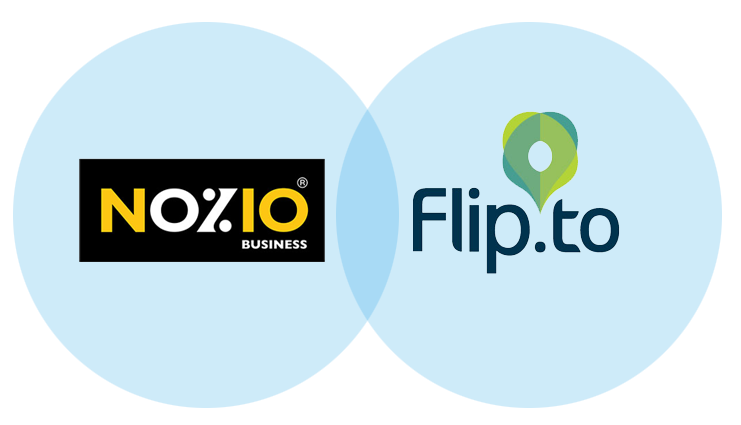 05 Apr

NOZIO and Flip.to partner up to enter the Italian market

VENICE – April 2015 – Nozio Business is pleased to announce that it has signed a strategic partnership with Flip.to, a US brand advocate.

Thanks to this collaboration, the brand advocacy platform Flip.to will be integrated with the Booking Engine Nozio V2.

The Booking Engine Nozio V2 will use this integration to encourages prospective hotel guests to share their bookings on their social channels, without leaving the hotel website.
On the Net, feedback and reports produced by users generate greater confidence – a very rare and precious commodity in social networks. The process permits to research people's connections, reaching all friendship circles of an individual.

The major advantages of the renewed Booking Engine Nozio V2 are:
1. It reaches new targeted users.
2. It carries more traffic and visibility to the official website of the hotel.
3. It improves the conversion of visitors into reservations.
4. It increase the volume of direct bookings with ZERO commissions.
5. It transforms customers in the most effective marketing tool of the Hotel.

To better illustrate the benefits of the integration between Booking Engine Nozio V2 and Flip.to, below we offer your attention two mini-interviews. In the first we're going to talk to Marco Baldan, CEO and President of Nozio; in the second we will talk with Richard Dunbar, Director of Business Development at Flip.to.
Marco Baldan, Nozio CEO and President, is an entrepreneur who since 1996 has successfully applied the disintermediation techniques in the tourism and hotel sector. He's a self-made man and is an expert in the tourism industry and its changing dynamics.

Richard Dunbar, Director of Business Development for Flip.to, is a veteran of the hospitality industry with more than ten years of experience. He worked with such important companies as Starwood Hotels & Resort Worldwide, the group that owns the hotel chains Sheraton and Westin, and EZ Yield, a company active in the supply channel management, now owned by TravelClick.
Enzo

Good morning, Maco! What does the partnership with Flip.to mean to Nozio?

Marco Baldan

Innovation. The word that has always ran side by side with the entrepreneurial spirit of Nozio and that has always distinguished the business model with which we began this adventure back in 1996.
Flip.to also means a marketing aspect that, so far, only few - if anyone at all actually - has been able to offer. Flip.to has effectively develop a range of social media marketing services based on content sharing by travellers. The result? The beefed-up word-of-mouth, but with the advantage that the content is generated by users and therefore inspires greater confidence in the consumer.

Enzo

How will this integration with the booking engine Nozio benefit the hoteliers?

Marco Baldan

It will transforming a technology (online booking engine) whose goal is to convert visitors into reservations, turning it in a real sales channel. Reservations that are shared by travelers affect a catchment area that a hotel or any of its partners will never be able to tap into alone. With the integration of this format, called Brand Advocacy, we are now able to offer a suite of powerful services, keeping up with market trends. The 3 simple marketing concepts: ATTRACT, CONVERT, SHARE, now represent The Next Hotel Marketing Standard!

Enzo

How is social media revolutionising the hospitality industry?

Marco Baldan

Social media is the mirror of our society.
Through the use we make of it we are able to know our habits, tastes and preferences, with the difference that in the case of the content that gets shared and re-shared by hundreds of people, they become a real marketing communication tool able to influence market trends.
Users have definitely taken a leading role in the market. They have become real influencers, and our marketing and performance plans are built around them.

Per quanto riguarda l'intervista a Richard Dunbar, essendo Flip.to un'azienda americana, abbiamo preferito mantenere le risposte nella lingua originale per evitare di perdere il senso delle parole.
Enzo

What does this partnership with Nozio mean to Flip.to?

Richard

For us, the relationship with Nozio represents an opportunity to bring Flip.to to a very unique and thriving Italian market. The culture, destinations, and properties within Italy fit very well with the concept of brand advocacy. Nozio has done a tremendous job in bringing truly helpful solutions to accommodations providers in Italy so we simply asked ourselves, "is Nozio someone we would do business with if we were the hotel" and the answer was an easy 'yes'. They have a fundamental understanding of the market and can present our Advocacy platform in a way that only a local company can. Our products are highly complementary, so as partners, we can strengthen hotels' brand presence and drive more bottom line revenue through direct bookings.

Enzo

Which is the real strength of the Flip.to products? How is the market responding to this new products?

Richard

The strength of the products rests in the concept of "brand advocacy". Hotels have always done a great job of engaging with their guests during the guest's stay but have struggled with what happens before the guest arrives and after they leave. This hasn't been due to a lack of effort, but technology is capable now of filling those gaps. Flip.to's Brand and Photo Advocacy platform engages with the guest at times when the guest is most likely to be willing to talk about their experiences. By integrating design elements from the hotel's brand and keeping the process simple, this experience becomes seamless and inviting to the guest. That creates the perfect environment for the guest to share and keeps the whole thing fun! What we have seen with our hotel clients around the world is that guests are happy to share when they feel like they are being treated well but you have to engage them at the right moment.

Enzo

What do you think about the Disintermediation strategy of Nozio? How can Flip.to products enrich this strategy?

Richard

The market as a whole has been hungry for solutions that restore and help foster direct bookings since the OTAs captured so much market share in the early 2000s. Nozio has embraced this call from the industry and developed a suite of products that address the needs really well. That's another reason why we feel this partnership is such a good fit. Nozio can apply what we've built to a very unique market and pair it with their deep understanding of what the Italian hotelier needs to capture more direct business. What Brand and Photo advocacy do is turn the hotel's guests into a new marketing and distribution channel for the hotel. Hotels will never have the sort of resources that a major OTA will have so they are learning to approach the game differently. We help them generate referrals from their guests and we track direct booking from those referrals so hotels can see how much impact Flip.to has for their business. Hotels like the idea of reducing dependency on OTAs and generating fierce loyalty amongst guests and their friends (or referral network).

Nozio Business was the first Italian web marketing company to provide services to hotels. Since its founding in 1996, the company serves hotel businesses, promoting the values of disintermediation: to develop a more economically and socially sustainable tourism it is essential to establish direct and authentic relationship between tourists and tourist facilities at the right value for money, eliminating the middlemen who rob the tourist destination of valuable resources.

Website: www.nozio.biz

Flip.to is one of the most promising American companies for the tourist market. The company, based in Orlando (Florida – USA), has created a strong brand advocacy platform that allows you to convert your customers into real promoters of your business, increasing the visibility of your brand and bringing in new clients. This platform was created to reach travelers around the world in a safe and natural way, while at the same time increasing the profits of your tourist facility.

Website: www.flip.to