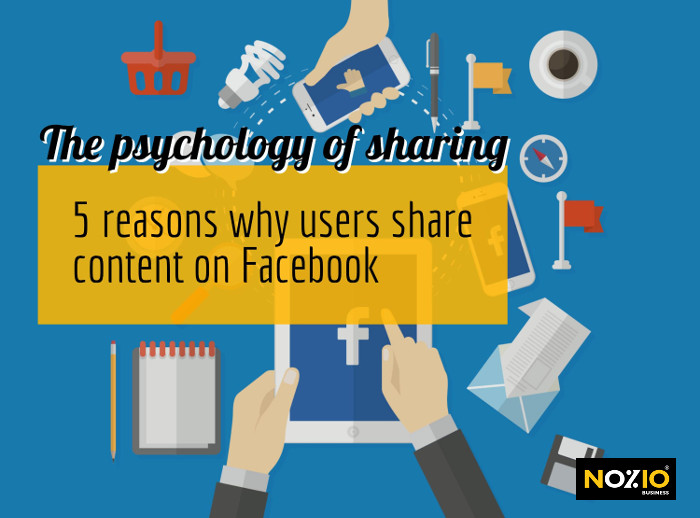 20 Sep

The psychology of sharing: 5 reasons why users share content on Facebook

Posted at 18:29h

in

Trend

According to the latest data, up to 1.65 billion users access Facebook at least once a month, while 1.09 billion users log on to the social network actively on a daily basis. Restricting these statistics to Italy alone, the figures amount to 28 million Italians who use Facebook at least once a month, and 21 million users who connect at least once a day.

Since the beginning, marketing forces have made use of these stats to enhance their communication strategies. Content is published on sites so that it can be shared on social networks.

But why do users share content on Facebook in the first place? It's essential for us to understand the psychology behind the sharing of content, as it affects the success of our social media marketing strategy.
A study conducted by the Fractl agency on content strategy helped us investigate the underlying motives that routinely push users to click on "like" or "share" on Facebook content.
This survey included a sample of over 2,000 users of the best known social media platform, and despite the fact that content can vary widely, the reasons that lead users to share it can be grouped into just five categories.
1. Entertaining
48% of users surveyed said the shared content on Facebook in order to entertain their friends; not just understood as sharing entertaining content, but more generally a desire to entertain the network itself with content deemed stimulating.
2. Expressing themselves
The second reason is tied to a users simply affirming themselves; that is, 17% of respondents said they shared content on Facebook to express their interests, by sharing content that talks about issues they care about personally or believe are relevant. Through sharing, users therefore seek to tell others what and who's important to them.
Marketing should thus try to capture this desire for self-affirmation by producing valuable content with which users can identify.
3. Inspiring
We want to share… emotions! Happiness, grief, anger, disgust, fear, love … Facebook's new status helps us communicate our emotions. Indeed, according to the study, 13% of people surveyed said they shared content on Facebook to arouse emotions in their network of friends. Moreover, the survey illustrated that among users who share emotional content are mainly women.
Images are shared to spike interest in other users and excite them. Content that requires an emotional response has a larger proportion of shares, and statistics show that what evokes positive emotions is shared to a greater extent than that which relies heavily on negative ones.
4. Educational
11% of respondents said they shared content for educational purposes. Educational content includes the sharing of information or, more generally content that can provide useful information to contacts that make up a network. Although the percentage of users who consider usefulness a primary reason for sharing is relatively low, the motivation Fractl terms as "educational" is quite widespread: 55% of users are keen to share something that is useful to others. Content that explains how a product or service can help solve daily or professional issues, for instance, is an effective means by which brands can respond to this motivation.
Useful information can be provided on a destination to upgrade users' network of events within a given territory: events, exhibitions, concerts, etc., creating ad hoc offers linked to such events.
5. Other
A further 11% of respondents answered "Other"; they therefore do not fall within any of the reasons listed above. This group of people includes those who share in order to convince their friends of their actions, promote awareness of the topics they've read up on, or even to find out what their friends think about the sharing of a given content.
Now that the psychology of sharing has been unveiled, these tips can be used to optimize your own Social Media Marketing strategies, and help raise awareness of your brand to travelers! Advanced instruments such as Nozio Brand Advocacy are designed to engage your customers and make them become your top supporters; using a single tool to automate your Social Media Marketing strategy, through the decisive contribution of your customers!
Infographic
For a summary of the data contained in the study by Fractl, click on the infographic: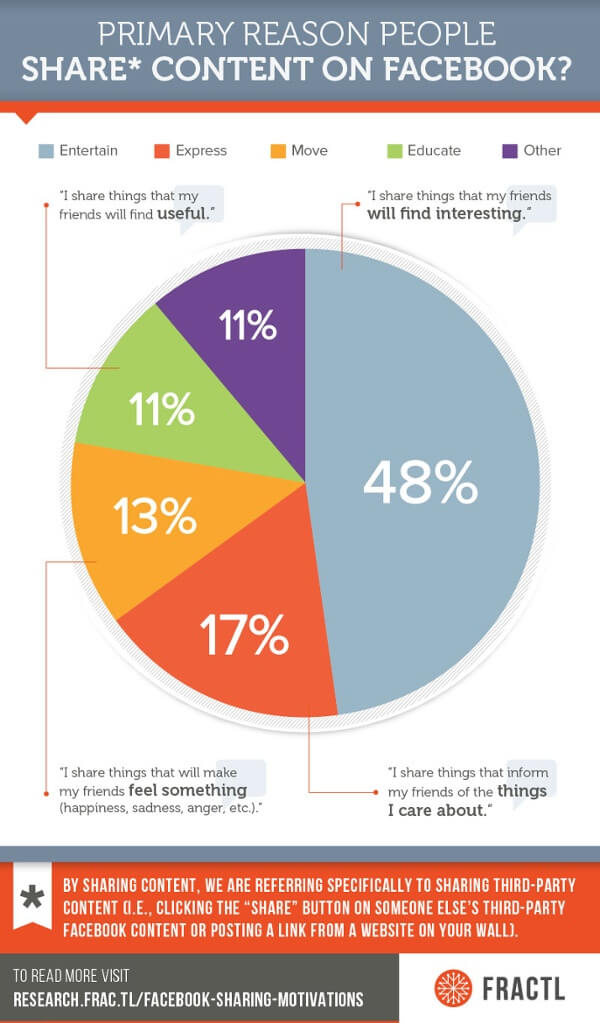 Source: www.frac.tl
Image credit: Freepik