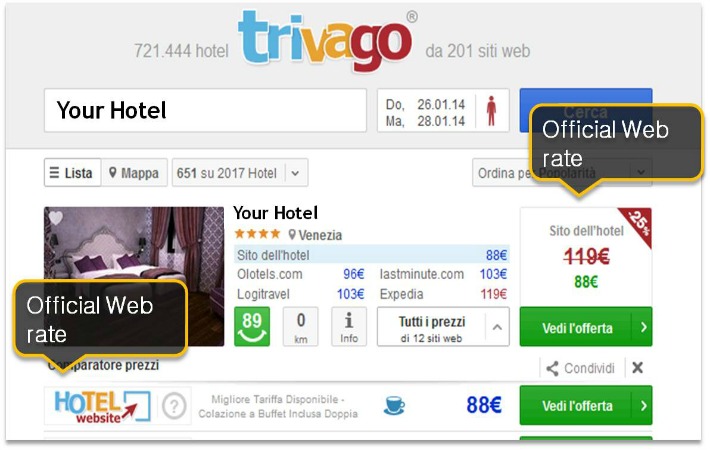 18 Jan

Trivago Direct Booking

A product to promote your hotel business lets you increase visibility and direct sales, completing with the largest international OTA.

It's easy! With Nozio Business professional consulting, your hotel can plan a PPC (Pay Per Click) campaign based on your distribution and budget needs. Nozio Business will handle interfacing the booking engine with the destination price comparison section and publish the price and availability offer on its Official Website. That way your hotel will benefit from increased visibility and will compete with the other hotels at your destination and the main online travel agencies.

Visibility.
High ROI.
Increse direct sales.

The Trivago Advertising service's strength is its hotel-only promotional space with average conversions estimated at more than 3% and one of the highest ROI on the market.

Trivago is one of the most famous price comparison and travel review sites in Europe. And it is quickly gaining ground in large markets like the US or emerging markets like Brazil.

Imagine – the website receives more than 20 million unique visitors from 33 different countries every month!

Don't wait and take advantage of a transparent campaign that focuses on a specific target.